Denim Strapless Lace-Up/Front Busk Closure Shapewear (125039675)
List Price: US$ 40.00

70% Off Worldwide Shipping

Save:

US$ 16.01
After Viewing This Item, Customers Ultimately Buy
40% of customers buy the item featured on this page.
Description
Category: Shapewear
Gender: Women
Occasion: Wedding, Special Occasion
Personality: Night Club, Fashion
Shop By Style: Corsets
Fabric: Denim
Boning: Yes
Boning Material: Plastic
Embellishment: Printing
Shoulder Strap: Strapless
Wear Method: Lace-Up, Front Busk Closure
Tips: Color & Style representation may vary by monitor, Hand wash only, Sorted with underwear
How long will your order take to arrive?
INTERNATIONAL SHIPPING AVAILABLE.
Tailoring Period: 4-5 days. See Details >>
Weight: 230g
Shipping To:
Delivery Methods
Delivery Time
Delivery Cost
Expedited Shipping
3-6 Days
US$ 43.99
US$ 12.99

(70% OFF)

Standard Shipping
5-8 Days
US$ 31.99
US$ 13.99

(55% OFF)

Super Saver Shipping
15-30 Days
US$ 5.99
US$ 5.99
All You Need To Know
Pictures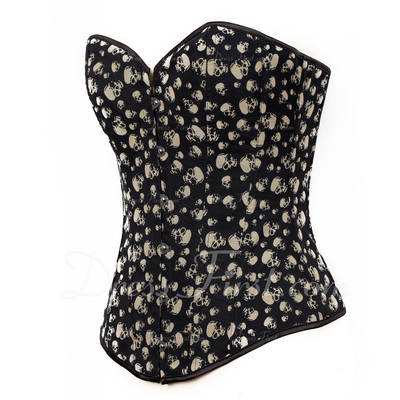 Shapewear Size Specification (B)
Size
S
M
L
XL
XXL
XXXL
inch
cm
inch
cm
inch
cm
inch
cm
inch
cm
inch
cm
Bust
32-33 ¾
81-86
33 ¾-37
86-94
37-40 ¼
94-102
40 ¼-42 ¼
102-107
42 ¼-45
107-114
45-48
114-122
Waist
22 ¾-25 ¼
58-64
25 ¼-28
64-71
28-31
71-79
31-33 ¾
79-86
33 ¾-37
87-94
37-40 ¼
94-102
Hips
33 ¾-35 ¾
86-91
35 ¾-39
91-99
39-41
99-104
41-44
104-112
44-46 ¾
112-119
46 ¾-50
119-127
How to measure